Here's a book that is a playfully profound, enlightening and a creative collection of Tosha Silver's experiences with the Divine. Make room on your night stand for Outrageous Openness because this soon-to-be favorite, that's filled with yogic philosophy, will simultaneously ignite deep contemplation while having you laughing out loud at this oh-so interesting world we live in.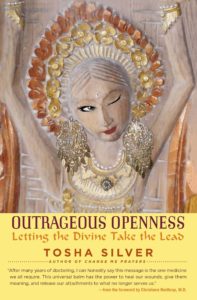 This fascinating woman – a Yale graduate with a degree in English Literature and a rich career in Astrology – brings her experiences and interpretations front and center in three page chapter vignettes that stand alone as thought-provoking invitations to align with our higher nature.
If you're looking for a little inspiration, a connection to your soulful self, or maybe even a way to tame the ego and step into the more expansive field of Divine possibilities, all you need to do is close your eyes, open the book to any chapter, and you'll find just what you need to lighten the load of day-to-day life. The bonus is that it will also inspire you forward and invite you into the magic and wonder of this vast and fascinating Universe we live in.
Trust me, you want this book! It charts a course for a fun and refreshing way to reconnect to your spirituality. It will keep you coming back for more so you can experience life in a whole new way.