You Can Heal Your Life is another one of my all-time favorite books. It holds the power to help one exhale around all of the wounded, misunderstood and dark corners of their life.
This book was my first intimate exploration into the world of self-awareness and self-actualization, and the legendary wise sage that became my trusted guide and mentor was none other than Louise Hay, one of the world's most influential people in the self-development field.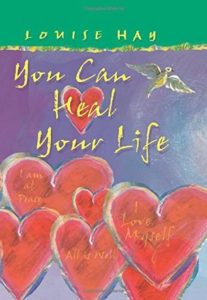 This is a book for the ages; as emotionally relevant and powerful now as it was when published in 1984. Although the world had to say a heartfelt farewell to Louise this past August when she passed at 90 years old, her pioneering work and commitment to each of us living a healed life of significant meaning lives on. Louise Hay's profound body of work will help you more deeply grasp and embrace:
The direct correlation between mental and emotional patterns and how they create very specific physical dis-ease (disease) in the body. This is a 'must have' powerful resource for your ongoing well-being.
The power of strategically healing the past through deeper understanding, self-forgiveness, powerful affirmations and new ways to create a vibrant future.
Everyone should have this guide sitting on their shelf after a cover-to-cover read and exploration into recognizing and emotionally maturing those aspects of your life that call for healing. You will come to treasure this book as a brilliant resource and trusted friend in times of need.