Awareness, affirmations, faith and gratitude. Phew! By now we're all fairly aware of the value the right mindset can bring to our lives, but some fresh tools and strategies are always welcome to raise our game and create a more compelling reality.
That's what you'll find in this insightful fun-to-read book. Feel Free To Prosper author, Marilyn Jenett, comes forward with conviction and rigor weaving together subtle gems and random pieces of wisdom into powerful practices that will enrich the tapestry of your life.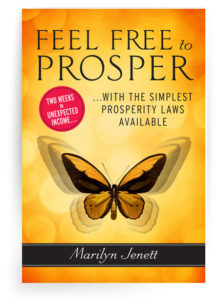 From cover to cover you will find creative and highly-effective exercises designed to shift old conditioning and unfocused behaviors to game changing results. If you are ready to revisit and reinvent your relationship with money and prosperity with light-heartedness and ease, this book, filled with one profundity after another, is for you.
Get out your sticky tabs and make room on your bookshelf. This is a long-term must-have that can forever put you in a new and improved relationship with money and overall prosperous living.