Life hands us second chances all the time and they are only restrained by our willingness and ability to see them. In Life's Golden Ticket, New York Times best-selling author, Brendon Burchard, opens our eyes to all the times we have been presented with the choice to be offended or informed, remaining stuck in our story and pain or courageously look through the lens of – and embrace – a second chance.
The story, set in an old amusement park that magically comes to life, finds the protagonist on a compelling journey of personal growth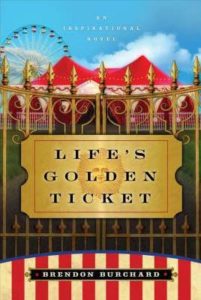 and change. Page after page, we see him being freed from the prison of his past that has kept him from fresh possibilities, better choices and the unrecognized gifts that have been in front of him. He, like all of us, is invited to answer difficult questions, overcome obstacles, listen to lessons from those wiser than he, and take a good hard look at himself as he moves into an elevated state of grace, love and redemption.
If you're ready for a page-turning inspirational novel that tells a triumphant tale and invites you to consider what if you were handed a golden ticket that could magically start your life anew, then find a cozy corner and dive into this thought-provoking and captivating book!